BT orders Banbury phone box library closure due to safety fears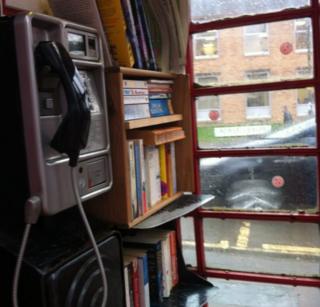 Residents using a red phone box as a library say BT is being "silly" for asking them to remove the books in case someone gets hurt.
About 40 books are available to borrow from the working phone booth, on South Bar, Banbury, Oxfordshire.
But a note put up in the booth by BT says the company is "concerned the books and shelving could cause injury if they were to fall".
BT says the books and "flimsy" shelf have to be removed by 3 March.
The library, which is near St John's Church, is said to have been installed last summer by a "mysterious benefactor".
Resident Tom Christy said BT was being a "little bit silly".
"The shelf looks fairly sturdy to me," he said. "I'd have it in my house.
"My message to BT would be: have a little heart, think it through. Surely there is some way that they can sort it out to everyone's benefit."
About 1,100 calls were made from the booth in 2014.
The notice says BT understands the "good intentions" behind the project, but asks that the books, shelving and signs advertising it "be removed as soon as possible".
A spokesman for BT said no-one had asked to use the phone box as a library.
"[We had] a complaint about the wobbly shelving from a Banbury resident and we can't just ignore it," he said.
"If we had ignored it and little Janet or John had been injured by a collapsing shelf and books there would have been hell to pay - right outside St John's Church."
'Silly and officious'
He said that BT has previously opened libraries in other phone boxes in the country, "with the cooperation of parish councils, local authorities and charities".
North Oxfordshire MP Sir Tony Baldry said he was "at a loss" to understand the decision.
"I don't actually think people are queuing up there to make telephone calls and I would be amazed if any telephone user had felt threatened by a few books," he said.
A #SaveOurPhoneboxLibrary campaign is gathering pace on Twitter, with users tweeting their support for the initiative.
Chris Fox called the notice "silly and officious".
Natalia Earney said the local community had "really got involved" in borrowing and donating books.
"We don't really use phone boxes anymore," she said.
"It's something that spreads some love and joy."