Oxford's Jericho Wharf boatyard 'piazza' plans approved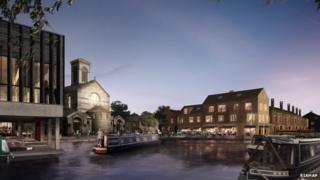 Plans to develop a derelict Oxford boatyard into a "Venetian-style piazza" have been provisionally approved.
Oxford City Council made the decision on the £20m development at Jericho Wharf on Tuesday.
It would feature a row of townhouses and a community centre built around a large Italian-style square.
A new boatyard is also planned with two dry docks and a wet dock - a public swing bridge will give public access across the Oxford Canal.
Phyllis Starkey, from the Jericho Wharf Trust, said: "This is a positive move - but it still remains a very complicated development to deliver."
Oxford City Council had previously rejected two planning applications in relation to the site, which has been derelict for 10 years.