Marine Le Pen speech at Oxford Union draws protestors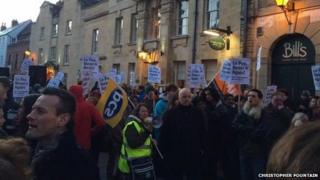 More than 200 people have taken part in a protest outside the Oxford Union over a speech being given by the French Front National leader Marine Le Pen.
Protest organiser Unite Against Fascism (UAF) said Oxford was a multicultural city being "targeted by fascists".
But Lisa Wehden, the union president, said the union was "politically-neutral" and an invitation was not an "endorsement of any particular agenda".
The far right Front National is the third-largest party in France.
'Freedom of speech'
UAF described Front National as "deeply racist".
It added: "By inviting Marine Le Pen the Oxford Union is contributing to a climate of Islamophobia which only encourages racists and fascists.
"The Oxford Union should not be giving racists and Islamophobes the prestige of speaking at their institution."
Labour councillor John Tanner said the invitation was an "irresponsible stunt".
He added: "The people of Oxford are against it and the council are against it.
"I don't think you can debate with fascists. If people like her get into power again then people like me would be put in prison."
In a statement, the Oxford Union said: "The Union believes in the principle of freedom of speech and we would encourage all members who disagree with an invited speaker's view to attend the event and question the speaker.
"We allow our members to meet people face to face and make up their own minds."
Michael Hugh Jones, who was at the protest, said he was in favour of the speech going ahead.
"Oxford is demonstrating its tolerance by letting her speak," he said.
"If [someone is] invited and they say something that is against the law, such as incitement to racial hatred or violence, then of course the police can step in and arrest them.
"But apart from that, they should certainly be allowed to speak."
Police said there were no arrests at the scene, despite some protesters attempting to scale fences.