Children held at Campsfield House immigration centre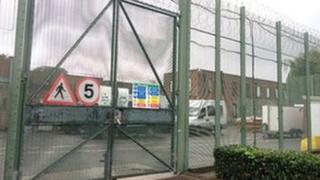 Three children were detained at a UK immigration centre despite a government commitment to end the practice, the HM Inspectorate of Prisons has found.
It said they were held at Campsfield House, Oxfordshire, in 2012 and 2013.
The coalition government had committed to ending the detention of children for immigration purposes in 2010.
However, a Home Office spokesman said it had always been clear there were "certain situations where it may be forced to detain children temporarily".
"These may include border turnaround cases, or cases involving unaccompanied children, until alternative accommodation is arranged," the spokesman added.
The report said in two cases staff had taken too long to assess the children's age while, in the other case, the child was detained despite records showing they were under 18.
'Deeply disturbing'
Inspectors visited the facility in August last year and found that, in December 2012, a detainee was assessed by social services as being an adult and held for 62 days, before a second investigation established the detainee was in fact 16.
In another case in May 2013, a Home Office official had stated the detention of a teenager was "appropriate", although computer records showed he was 17 years old.
After three days at the centre in Kidlington, the error was uncovered and he was released.
The report said no children had been held at the centre between the start of 2014 and the date of the inspection.
Chief Inspector of Prisons Nick Hardwick said overall it was a "very positive" inspection.
"However, whatever the strengths of the centre, detention should not be used for children, victims of torture or anyone for unreasonable lengths of time," he added.
He said further improvements to national processes were required to ensure it did not happen again.
Overall, inspectors found the facility was a "safe and decent establishment" where staff worked professionally and sensitively with detainees.
However, some had been adversely affected by "significant weaknesses" in the immigration processes outside the control of those working in the centre, it said.
Judith Dennis, of the charity Refugee Council, said: "Unaccompanied children arrive in the UK alone, frightened and often traumatised.
"It's deeply disturbing that they can then be thrown into adult detention centres and left to fend for themselves.
"The government appears so intent on locking up as many asylum seekers as possible that it's wrongly imprisoning children too.
"It's high time the inhumane, inefficient and expensive practice of detaining asylum seekers is consigned to the history books, where it belongs."
Bill MacKeith, of Campaign to Close Campsfield, said: "We need to look behind the positive headlines and concentrate in more detail on those things listed as concerns."
At the time of its inspection, 209 adult men were being detained at the site.
The Home Office said it would respond to the report's recommendations in due course.