Oxford newsagents ditches plan to sell Charlie Hebdo after threats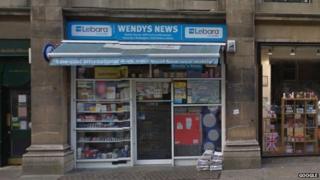 A newsagents has abandoned plans to sell the latest edition of Charlie Hebdo after receiving threats.
Hamid Hadi, who works at Wendy's News in Broad Street, Oxford, said they had ordered 500 copies of the magazine, which depicts the Prophet Muhammad, because of customer demand.
He said they cancelled the order after receiving threats, including a phone call threatening to burn the shop down.
Police said they are investigating and taking the allegation "very seriously".
'Staff were scared'
The "survivors' issue" has angered some Muslims by depicting the Prophet Muhammad on its cover.
Mr Hadi, a muslim, told the BBC they decided to sell it after receiving almost 100 individual orders from customers.
But he said staff were scared after they received "so much pressure" through phone calls and on Facebook over the decision.
Of the phone calls, Mr Hadi said: "My cousin was there... and they were saying 'we know where you are... we will break all the windows, we will burn your shop because you sell this magazine,' and he was frightened.
"He called me and he talked to me and after I said call the police."
Thames Valley Police spokeswoman Rhianne Pope confirmed officers were called to the newsagents to investigate reports a threat was made to the shop on Monday night on the phone.
"Officers are in direct communication with the newsagents and are working to make sure the shop can go about their daily business," she said.