World Pooh Sticks Championships seek new Oxfordshire venue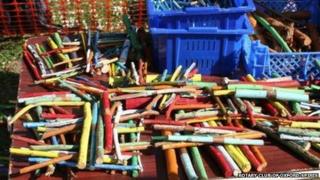 Organisers of the World Pooh Sticks Championships in Oxfordshire are looking for a new venue.
The Rotary Club of Oxford Spires has organised the event on the River Thames at Day's Lock in Little Wittenham for the past 31 years.
But it said "logistics" at the site had now become difficult due to a change in the use of land.
They hope a new venue can be found near Oxford, Abingdon, Didcot, Wallingford or Witney.
The club said the "ideal venue" would have one or two bridges over the river, access for the safety boats and space for parking as well the registration and games tents.
It is now appealing to landowners and said the event could be combined with existing village fetes or sports club open days.
In 2013, the championships were cancelled because of high river levels on the Thames.
The game originates from author AA Milne's Winnie the Pooh novel, The House At Pooh Corner.
Pooh sticks game rules:
Select a stick, face upstream, side by side with fellow competitors
Choose either the oldest or the youngest competitor as a "starter"
Competitors must hold their stick at arms length over the stream, usually from a bridge, at the same height as the shortest competitor's stick
All competitors must drop, and not throw, their sticks into the water at the same time, on the starter's call
The players must then cross to the downstream side of the bridge and wait for the sticks to emerge
The owner of the first stick to float from under the bridge is the winner
Source: Rotary Club of Oxford Spires