Prime Minister David Cameron runs in charity mud race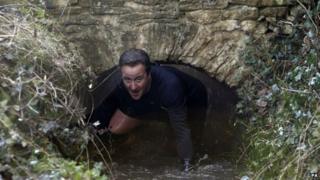 Prime Minister David Cameron will be hoping for a better result in next year's election after finishing 64th in a charity race.
The Witney MP waded through an icy brook, crawled through a tunnel and climbed a ladder during the mile-long Great Brook Run in Chadlington, Oxfordshire.
He joined more than 140 runners at the event for the fourth time.
Competitors collected a medal and a pint of ale at the end of the run.
The Great Brook Run has taken place since 2006 with the slogan "Run. Get wet. Have a pint".
Mr Cameron, who completed this year's run in 14 minutes and 12 seconds, previously took part in 2012, 2009 and 2008.
Ivo Brown won the race in a time of seven minutes and 36 seconds.
The £5 entry fee is donated to good causes.