Christmas scarecrow nativity scene created at Didcot allotment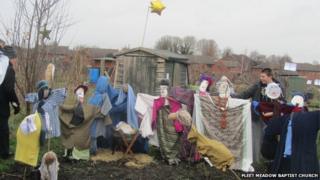 A church without a building has created a nativity scene with scarecrows for a service at an allotment.
Fleet Meadow Baptist Church recently acquired the plot in Didcot, Oxfordshire, and decided it would be a "fitting" Christmas theme.
Thirteen scarecrows, representing figures such as Jesus, Mary and Joseph, were made by parishioners using items including old clothes and sticks.
About 35 people then attended a carol service at the site.
Church services, led by the Reverend Ann Fradgley, are usually held at Fleet Meadow Community Hall, next to the allotments.
"We wanted to do something at the site for the festive season which brought the community together, and a nativity scene using scarecrows seemed like the logical answer," said Ian Bunce, from the church.
He said because of the success of the church's first service at the allotment plot, more were planned for Easter and at Harvest Festival.