Jack FM turkeys survive 'cook or save' vote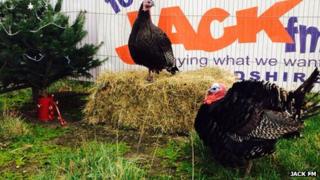 Two turkeys that were the subject of a radio vote criticised by animal lovers including Queen guitarist Brian May have been saved from slaughter.
Jack FM in Oxford ran an online vote on whether the turkeys, called Sage and Onion, should be cooked or kept alive.
The RSPCA said it opposed any practice with the "potential to cause animals pain... in the name of entertainment".
The station said 67% voted to save the pair, who will now be given to the Hopefield Animal Sanctuary in Essex.
'Intelligent birds'
During the vote, May, who also opposed the badger cull, asked on Twitter: "Anybody else disgusted by this?"
The radio station said if listeners voted to kill the pair in the "cook it or keep it" poll, a farm would "facilitate the procedure".
A RSPCA spokesman said: "The RSPCA strongly urged the radio production team to rethink this whole stunt.
"The new owners need to consider that turkeys are intelligent birds and they need things to keep them active and engaged, such as objects to peck at and perch on, and plenty of space to exercise and stretch their wings."
Jack FM said in a statement on its website: "We've been working with Peta [People for the Ethical Treatment of Animals] to make sure their forever home will be far, far away from the Christmas dinner table and today Sage and Onion will be heading to the Peta-approved Hopefield Animal Sanctuary.
"We're thrilled the turkeys will be getting a future and Jack FM will of course be making a donation to the sanctuary for their upkeep."