Oxford Santa Run: 1,700 Santas race through city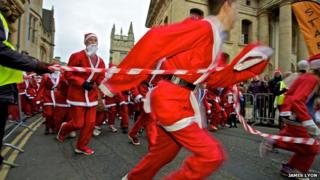 Oxford city centre became a sea of red and white as 1,700 Santas took part in a two-mile (3.2km) fun run.
The event, which began with a Zumba session to warm up the competitors, raised £70,000 for the city's Helen & Douglas House hospice.
Mike Illingworth, who took part, described it as a "fantastic event" but warned runners had to get through the "pain barrier" to succeed.
Race director Poppy Hanby said the race sold out a month beforehand.
She added: "We are limited to 1,700 Santas so it's fantastic Oxford got behind this event.
"It's an amazing sight, seeing so many people dressed in Santa suits and there is a really fun atmosphere, even for those watching."
The competitors were kept in line by 45 volunteers dressed as elves, who gave away more than 1,500 mince pies.
The route, which started near the Bridge of Sighs, at the junction of Catte Street and Broad Street at 09:15 GMT, also took in University Parks and several Oxford colleges.
Mr Illingworth, 40, from Witney, ran the race as part of a 44-strong team in memory of his son Benji, who died in 2012.
He said: "We've taken part to run in memory of Ben in a fun way, to remember all the fun times he had at Helen & Douglas House.
"It's over too quickly. In a way you want it to be longer, but two miles, after you've eaten all these mince pies at this time in the morning, that's enough."