Benefits cut death: Mark Wood case review 'unclear'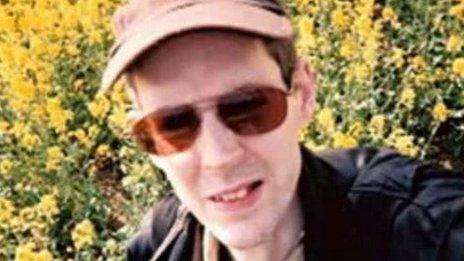 The sister of a man who starved to death, four months after his benefits were cut, says she wants "straight answers" following a government review.
Mark Wood, from Bampton, Oxfordshire, had his income support stopped in 2013 after he was found fit to work despite having serious mental health issues.
His sister Cathie said the review had been unclear.
She said she wanted "straight answers from a human being".
The DWP's internal review showed Mr Wood, 44, was assessed at his home rather than at a medical centre, but that further medical information was not requested from his GP.
It also showed there were problems notifying Mr Wood that his benefits would be stopped in March 2013, because the DWP had difficulty reading his handwriting and contacting him by phone.
The DWP said it had changed its guidance on contacting claimants, communicating decisions and explaining benefits form.
Mr Wood's family has called for a meeting with the disabilities minister Mark Harper, to "further pursue the issues and press for change so other very vulnerable people do not have to suffer in the way Mark did."
This is the second review into his case.
Ms Wood said it showed "lessons have not been learned".
She said her brother was "hounded by mental health issues" and she was concerned by the "refusal to take on board the doctor's detailed evidence early on".
A DWP spokesman said: "Our sympathies are with Mr Wood's family.
"This is a tragic case and the coroner attributed Mr Wood's eating disorder and food phobia as the likely cause of his death, rather than issues around benefits.
"After receiving new evidence from Mark Wood's GP - which was not presented at the first Atos assessment - we revised the original decision."
Related Internet Links
The BBC is not responsible for the content of external sites.