Protest at EDL founder Tommy Robinson's Oxford Union talk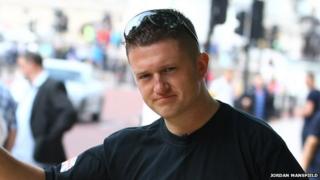 Academics and politicians have signed an open letter protesting at the decision to allow English Defence League (EDL) founder Tommy Robinson to speak at the Oxford Union later.
A number accuse the ex-EDL leader of continuing to "incite racial hatred against Muslims".
Mr Robinson said the group was being fascist for "wanting to silence someone with a difference of opinion".
The Oxford Union is yet to comment on the row.
'Spread his poison'
It is the third attempt to get Mr Robinson, real name Stephen Lennon, to talk at the union - the first having been cancelled amid security concerns and the second because he was sent back to prison.
Mr Robinson has now left the EDL but more than 200 people have signed the open letter, including film director Ken Loach, claiming he "continues to communicate with EDL members and issue anti-Muslim statements via social media".
The letter said: "The Oxford Union is helping a vile fascist spread his poison."
Mr Robinson said the Oxford Union was upholding the notion of freedom of speech.
"I don't think for a minute the leader of Oxford Union agrees with me, and he's probably taking some flack for this," he said.
Asked about his speech, he said: "I'm not going to incite hatred against anyone."
He said he would cover topics such as explaining his background and journey and why he chose to leave the EDL.
He said he was not allowed to talk about certain issues because he was out on prison licence.