Oxford Westgate Centre approved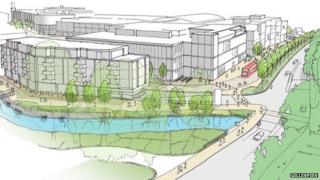 A £500m project to transform Oxford's Westgate Centre has been approved.
Site owner Westgate Oxford Alliance has submitted its final plans for the site, which include 59 luxury flats.
Oxford City Council said it had made an exception to its usual rule that 50% of any large new development is affordable housing, a decision criticised by the Green party.
Plans include a five-screen cinema, a three-storey John Lewis, 70 shops, three public squares and a car park.
The council usually requires developments of more than nine homes to have 50% affordable housing.
But it has instead asked the developer to pay it 15% of the sales value of the on-site housing.
'Unaffordable city'
It will use this money to pay towards providing affordable housing elsewhere.
A spokesman for Westgate Oxford Alliance said: "The outline planning permission makes provision for a significant financial contribution in the order of £3m towards new affordable housing for the city.
"The new Westgate will also create 3,400 new jobs, 1,800 construction jobs and bring over £200m a year of expenditure to the city."
A council spokesman added: "The reasons for not having affordable units on-site related to the location, type and on-going costs of the accommodation proposed which was felt not to be as suitable for those on the council's social housing waiting lists as could be provided by the city council itself elsewhere."
However Sam Hollick, leader of the council's Green group, said: "We face a housing crisis as the UK's most unaffordable city here in Oxford.
"The Westgate is an ideal site to provide housing with good access to transport and other facilities. It's a scandal that so few homes are proposed and council or housing association homes are completely ruled out."