Didcot traffic lights removed after travel chaos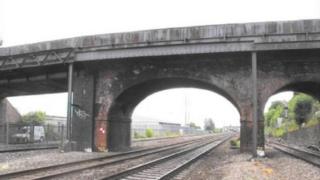 Temporary traffic lights that were put up without permission in Oxfordshire have been removed after they caused traffic chaos.
Drivers complained of congestion in Didcot and one motorist said it took 50 minutes to travel three miles.
The county council said permission for the lights had not been granted.
National Grid, which had put up the lights in Foxhall Road, apologised and said work to install two underground cables will now take place overnight.
"Unfortunately the lights caused a higher than expected level of traffic disruption," a National Grid statement said.
"We apologise for the delays to people's journeys.
"We have reviewed our working arrangements."
A spokeswoman confirmed they are in talks with the county council about when the work will resume, but it is expected to be finished by 8 December.
The lights were installed on behalf of Network Rail as part of the work to electrify the railway between London and Bristol. The bridge at Foxhall Road will be reconstructed as part of these plans.
Karen Carey tweeted "Didcot gridlocked today. Taken me 50 mins to get from Harwell to the station. Crazy traffic maintenance plan."
A county council spokesman said: "As soon as we were aware work was taking place at peak traffic times we requested that National Grid remove the lights."