Dylan Thomas: Wilderness years in Oxford remembered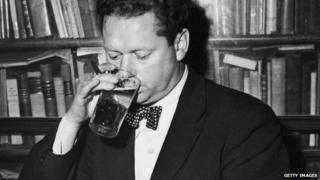 During Dylan Thomas's time in Oxford he knuckled down on his masterpiece Under Milk Wood, appeared on the BBC, indulged in plenty of heavy drinking, and was kicked out of his lodgings by a jealous husband. Now a literary tour is shining a spotlight on this relatively little-known period of the Welsh poet's life.
Thomas had achieved fame as a poet in the 1930s and had spent World War Two in London writing propaganda films.
But by 1946, after the end of the war, he needed a regular income to support his wife Caitlin, and children Llewelyn and Aeronwy.
Luckily he had a new admirer in the form of Margaret Taylor, wife of noted historian and broadcaster A. J. P. Taylor.
Introduced as an "entertaining guest" by a mutual friend, he had succeeded in charming Mrs Taylor, who put the family up in a summerhouse in their garden in the grounds of Magdalen College.
Thomas had a love-hate relationship with Oxford, according to his biographer Andrew Lycett. His poetry may have brought him respect and celebrity in literary circles, but in Oxford he felt at odds with his surroundings.
"His father, who had been a schoolmaster in Swansea, would have liked him to go to Oxford University," Mr Lycett explains.
"When he did actually get to Oxford he wasn't actually at the university. It was a curious period. He was in this academic environment though he wasn't a born academic himself.
"But he generally enjoyed himself because he got to know some of the dons there. He wasn't popular amongst them, because they thought he was a bit of a wastrel, so he hung out in pubs and met students."
Thomas certainly lived up to his reputation for liking a drink or two, and was seen regularly at notable hostelries such as The Turf, The Gloucester Arms, The Trout and The Perch.
He would be surrounded by undergraduates eager to hear his stories, including the poet Philip Larkin and another future writer, Kenneth Tynan.
Thomas also took paid jobs at the BBC, regularly commuting to London and became something of a celebrity through appearing on panel shows.
However, after a year living with the Taylors, things turned sour.
"He didn't really endear himself to Professor Taylor," Mr Lycett says. "He overstayed his welcome.
"The professor liked to have a barrel of beer in the house and Dylan would finish it off. He just took a dislike to him, partly because, reading between the lines, his wife rather fancied this young man."
Oxford I sing, though in untutored tones, alack!
I heard, long years ago, her call, but blew it back;
...Ah, not for me the windblown scarf,
The bicycle to the Trout, the arm-in-arm sweatered swing,
Marx in a punt, Firbank aloud round the gas-ring.
Dylan Thomas, uncollected poem
Mark Davies, an Oxford historian, says Professor Taylor disliked the poet "intensely".
"He ended up being banished a safe distance away from his wife," he adds.
This banishment was in the picturesque village of South Leigh, nine miles out from the city, in a house set up for Thomas by Margaret, who continued to be his proud patron.
However, it was here that his granddaughter Hannah Ellis believes Thomas found much of the inspiration for one of his most celebrated works, the radio drama Under Milk Wood.
He was in a house in poor shape and lacking electricity but Thomas was able to knuckle down on a large section of the play, soaking up the idiosyncrasies of the villagers he had befriended.
"South Leigh is hugely important because that was one of those villages where he met all the different characters, and it helped him reignite his passion," she says.
"The play had been a seed from when he was about 20 and I think it was that village lifestyle and all the characters that helped.
"He liked sitting in the corner of the pub, watching all the drama going on.
"Also he had somewhere quiet to work and a home. For such a long time he hadn't settled and it was a good period in his life."
Mrs Taylor, something of a guardian angel by this point, also helped him return to Wales when he was ready in 1949, buying him a boathouse with her own money.
He lived there for the remainder of his life.
"People so often focus on the other periods of his life and they forget about Oxford," adds Ms Ellis.
"They see the romantic period of living in Laugharne at the boathouse, and the contrast of the chaotic times in New York."
---
A poet's life
Dylan was born on 27 October, 1914 at 5 Cwmdonkin Drive, Swansea
In 1931, at the age of 16, Thomas left school to become a junior reporter at the South Wales Daily Post
He married Caitlin Macnamara in 1937 and the couple went on to have two sons and a daughter
His most famous poem, Do Not Go Gentle Into That Good Night, was written in 1951
Thomas's celebrated prose includes Under Milk Wood and A Child's Christmas in Wales
He died aged 39 on 9 November 1953 in St Vincent's Hospital, New York
Source: Dylanthomas.com
---
"There's just something interesting about this little inebriated Welshman wandering around the streets of Oxford," adds Mr Lycett.
"The period isn't discussed much. It was a bit of a hiatus. Somehow or other there was this intervening period that tends to get forgotten.
"People don't realise he was starting to think about Under Milk Wood so it wasn't unproductive. His time in Oxford was an important period of his life."
Indeed Mr Davies believes Thomas's connection to Oxford would be better known if he had studied at the university.
"Because he didn't and he was only here as a guest of the college it has been brushed to one side," he said.
"There are some immense historical characters who, because they're not associated with the university, have been nudged sideways out of history."
A new tour, organised by Literature Wales, aims to make this clear.
Its trail takes in the poet's favourite drinking establishments, the summerhouse, and the village that became his home.
It means the city will finally take the time to remember and treasure one more person in its long line of literary giants.