Brabham Racing exceeds £250k crowdfunding target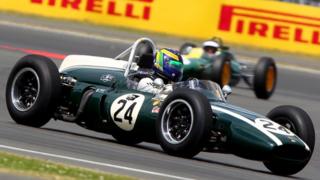 A crowdfunding appeal to raise funds to re-establish an Oxfordshire motorsport team has exceeded its £250,000 target.
Brabham Racing is offering a stake in its team, with the aim of creating a sustainable business.
The team plans to use the investment to compete in the 2015 FIA World Endurance Championship, which includes the prestigious Le Mans 24 Hours.
Founded in 1962, the Banbury-based team last raced in F1 in 1992 with Damon Hill behind the wheel.
David Brabham, team principal, said: "With Caterham close to closing and Marussia, there's 400 people out of work - if we can start another team that's great news.
"I have long dreamt of seeing the Brabham Racing team back out on the track."
There have been more than 2,666 contributors to the scheme, from 62 countries.
Funders will be given the ability to vote on decisions including who drives for the team.
The team was started by three-time world champion Sir Jack Brabham, who is the only man to win a world championship in his own car.