William Blake's fire-destroyed studio recreated in Oxford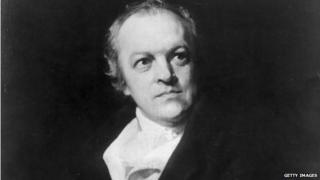 The south London studio of artist and writer William Blake is to be recreated at a museum in Oxford following the discovery of detailed plans.
The Lambeth studio where Blake developed his method of colour printing was destroyed by fire in 1918.
The reconstruction of No.13 Hercules Building follows the discovery of plans that show the footprint and exact dimensions of the building.
The exhibition at the Ashmolean Museum opens on 4 December.
In his time he was considered a maverick, but Blake is now seen as one of the great English Romantic poets.
Author Philip Pullman, who is president of the Blake Society, said: "It's very exciting to see this exhibition devoted to the work of Albion's strangest genius."
The exhibition, which features more than 90 works, will focus on how Blake's poetry, art and innovative prints were created.