Horspath villager's Remembrance Sunday memorial refused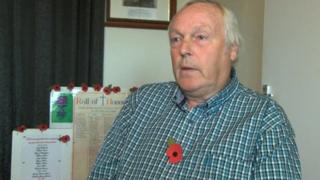 A man ordered not to display his home-made war memorial on a village green on Remembrance Sunday has vowed to press ahead with his plans.
Keith Brooks wants to commemorate the war dead of Horspath, near Oxford.
But in an email, Horspath Parish Council said his wooden structure could cause health and safety issues.
"With the council banning me from doing it and threatening me with legal action, it's just made me more determined," Mr Brooks Said.
Mr Brooks' memorial includes poppy wreaths, a Union Jack and a roll of honour for the fallen.
The email to Mr Brooks reads: "Should you proceed, it will be reported to the police as an offence under the 1869 Inclosure Act.
"You will also be held responsible for any claims arising from your actions and for the cost of removing the item."
Mr Brooks said villagers had not objected to his plans.
"If the residents are in favour, what is the problem?" he asked.
"There are very often cars parked on the green, posters advertising boot sales and banners with birthday messages - all without council permission and nothing is said - but for one very important event in the year the councillors make all this fuss.
"It's not about me, it's not about the parish council. It's about paying our respects to our war veterans who fought for our freedom."
Horspath Parish Council said Mr Brooks did not have permission to "erect anything on the village green either this coming weekend, nor at any other time".
"Not withstanding that such denial of permission may seem unreasonable to some... there are health and safety implications that impact on the parish council's insurance, for which the trustees can be held personally responsible if found to be acting negligently."
The council said it was prepared to compromise and allow his creation to stand on the church's burial ground "for the time being".