Banbury coffee factory nets £30m investment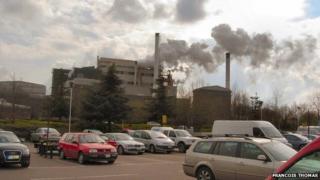 A total of £30m will be invested in an Oxfordshire coffee factory, creating 80 jobs, its owners have announced.
Mondelez International plans to use the money for two Tassimo coffee production lines, to be installed next year at the Banbury factory.
The news follows fears about job cuts in May, with the company's planned merger with D.E Master Blenders 1753.
A Mondelez spokeswoman said the investment was "great news" and had secured the site's future.
The decision coincides with Banbury coffee plant's 50th anniversary.
'Growing demand'
Phil Hodges, from Mondelez Europe, said it was a great opportunity.
"Over the past 18 months, we've made similar investments in Bournville and Sheffield, underscoring our commitment to UK manufacturing," he said,
"The investment is part of our vision to manufacture our products on state-of-the-art lines that will enable us to meet growing demand while increasing our competitiveness."
The Kraft Foods Banbury factory, which also produces coffee brands such as Kenco, Carte Noire and Maxwell House, has been a major employer in the town since it was built in 1964.
With the split of Kraft General Foods in October 2012, the factory site became part of the new company, Mondelez International.