Bicester M40 crash death 'accidental'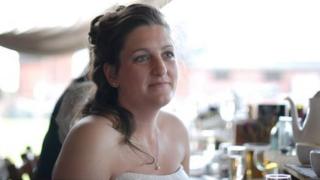 A five-week-old baby was pulled from the wreckage of a car crash in which her mother died, an inquest has heard.
Joanna Bull, 29, from Kenilworth in Warwickshire, died when her Peugeot 406 hit the back of a lorry on the M40 near Bicester in June.
Her daughter Ruby, who was in the back seat of the estate car, was rescued unharmed by witnesses.
Assistant coroner Nicholas Graham recorded a verdict of accidental death following an inquest in Oxford.
Giving evidence, eye witness Philip Crawley said he had seen Mrs Bull's car go at "full speed" into the back of the lorry, which was travelling at 10-15mph (16-24kph).
He described how he had helped rescue Ruby after peeling back some of the wreckage of the car.
Mr Crawley and his wife then looked after the baby girl until the emergency services arrived.
Mrs Bull suffered multiple injuries and died at the scene.
A forensic investigator from Thames Valley Police told the inquest Mrs Bull's death could have been caused by tiredness, loss of concentration or a temporary medical condition like passing out, but added he could not be sure it was due to any of those factors.
Following her death, Mrs Bull's family paid tribute to her and described her as "vibrant, beautiful and caring".