No plans to lower height of 'ugly' Oxford development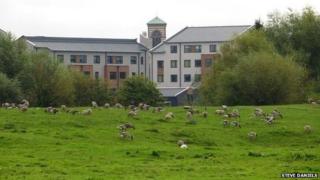 Oxford University has said it does not plan to alter the height of a controversial block of student flats built near a beauty spot.
The £21.5m Castle Mill development at Port Meadow was granted planning permission in 2011.
Planning minister Nick Boles criticised it as one of the "worst examples of modern design" he had seen.
But the university has defended the flats, saying they gave "much-needed homes" for more than 300 students.
The five-storey accommodation on Roger Dudman Way overlooks Port Meadow, which is classed as a Scheduled Monument - a nationally important archaeological site.
Port Meadow is also a Site of Special Scientific Interest - which makes it a protected conservation area.
The development has been widely criticised as "ugly" and campaigners have argued the height of the buildings should be lowered because they spoil the view of Port Meadow.
Students are already living in the flats.
Oxford City Council was criticised for granting planning permission without asking for an environmental impact assessment.
The university has now voluntarily submitted an environmental statement to the council.
But the report said altering the height of the buildings or the structure of the roofs would require "large and unacceptable expenditure of its funding".
Instead, it proposes adapted landscaping and cladding of the new buildings to blend them in with the surrounding area.
It is also plans to plant more trees on the western boundary of the site and to soften the colour and textures of the buildings.
A seven-week period of public consultation will consider all the issues the report raises after which a further planning application will be submitted to revise the development.