Caterham F1 manufacturer goes into administration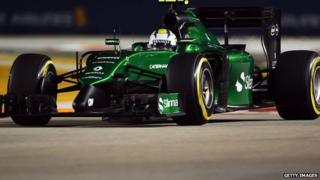 A company that builds cars for the Caterham Formula 1 team has gone into administration, putting hundreds of jobs at risk.
Caterham Sports Limited, in Leafield, Oxfordshire, manufactures racing cars for the F1 team, which is operated by 1 Malaysia Racing Team (1MRT).
Administrator Finbarr O'Connell said 200 jobs were affected and up to £20m was owed to external suppliers.
He said the Caterham F1 team wished to continue to race.
Caterham Sports Limited had been manufacturing the cars under a licence from 1MRT.
For the time being, employees of Caterham Sports Limited have been transferred to 1MRT.
'Positive discussions'
Mr O'Connell said: "I'm trying to enter into an arrangement with 1MRT whereby they (employees) can stay here at the Leafield site.
"If I can reach an agreement with them then hopefully jobs are not at risk.
"If I can't reach an agreement then all those employees, 1MRT will have to decide what to do with them, but they won't be at the Leafield site."
Administrator Smith & Williamson said "positive discussions" had been held with Caterham team manager Manfredi Ravetto and financial backers to see whether the relationship with Caterham Sports Limited could continue.
It said if an agreement could not be reached, it would look to sell the manufacturer and assets of the company.
Earlier this month bailiffs visited the Leafield site and seized items, including a 2013 F1 test car.
About the Caterham F1 team
Entered the sport in 2010 as Lotus Racing owned by Air Asia boss, Tony Fernandes.
Changed to Caterham in 2012 after Lotus name was taken up by Renault team for 2012.
They have failed to score a point in F1.
Notable drivers: Kamui Kobayashi, Heikki Kovalainen, Vitaly Petrov, Jarno Trulli.
Moved to Leafield, Oxfordshire, in 2012 from base in Norfolk.