Oxford multiple roadwork disruption 'unsatisfactory'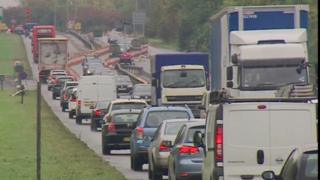 Government rules over funding are being blamed by Oxford City Council for multiple roadworks being undertaken around the city at the same time.
Some of the work is financed by the local sustainable transport fund, which the county council said must be spent by April 2015.
But, city council leader Bob Price said the disruption was "unsatisfactory" and the works should have been spread out.
Roads minister Robert Goodwill said it was important councils spend the cash.
"The Local Sustainable Transport Fund money does have to be spent and I think most people would assume that if we give money to a council to repair the road they should get on and do it - there is no sort of political story behind this, it is just a case of making sure the money is spent," he said.
"We have given local authorities unprecedented amounts of money."
'Cannot plan'
However, Mr Price said: "It means in the short term we have these disruptions with one set of roadworks piling on to another one and that is really unsatisfactory.
"Far better would be to have them spread out over a period of years in which you could do them in series rather than all in parallel."
Roadworks around Oxford this month include work on the Southern Bypass, the A420 London Road and the Worcester Street junction with George Street.
William Blowfield, of Walters Coaches in Forest Hill, agreed with Mr Price.
"[It] means you cannot plan around it and use different routes," he said.
'Work more quickly'
"If we are late on a school run, we can actually get fined by the council, but they are causing our delays."
Kate Curtis, head teacher of Wheatley Park School in Oxford, said 30 pupils were late on Tuesday because of the delays.
"We hadn't foreseen it being as bad as it was," she said.
In a statement, the county council said it was "not possible" to work on schemes consecutively, because of the funding constraints.
"While this means that there will be work going on in different places at the same time, and significant disruption while that is done, it also means that we will ultimately get more schemes done more quickly," it said.