Oxford London Road eight-month roadworks begin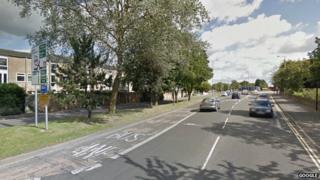 Major roadworks, expected to last eight months, have begun on one of Oxford's busiest roads.
Work to widen and resurface the A420 London Road for buses and cyclists will be carried out in two phases, with a break at Christmas.
The £2.1m scheme also includes work to improve approaches and junctions.
According to the county council, the road, which leads into the city from the east, is used by 16,000 vehicles a day, including 900 buses and coaches.
Oxfordshire County Council has warned motorists to expect disruption and use alternative routes whenever possible.
During the first phase, until the end of January 2015, the bus lane on the A40 from Thornhill Park and Ride to the roundabout will be closed, along with the left lane turn from the A40 on to the eastern bypass.
Transport councillor David Nimmo Smith said: "People have been calling for these improvements for a long time and it has taken a great deal of effort and planning to pull everything together so that we can get the improvements and the road reconstruction done in sequence."