Sir Roger Bannister to start Oxford Half Marathon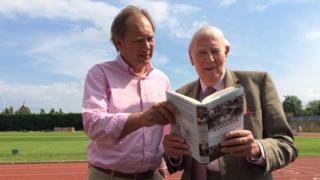 Sir Roger Bannister is to start this year's Oxford Half Marathon, 60 years after he became the first person to run a mile in less than four minutes.
The 85-year-old, who set the time at Oxford University's Iffley Road Track, will start the event on Sunday.
The race will include a detour to the track to mark the inaugural BBC Radio Oxford Bannister Mile.
Entrants in this year's half marathon will run one lap around the track where Sir Roger made history on 6 May 1954.
The lap will be timed in addition to the main race, so all entrants will receive an overall finish time as well as a time for the Bannister Mile.
Sir Roger said: "The half marathon is a great event and will be a huge challenge for a lot of the runners taking part.
"I'm really looking forward to seeing off all the runners and getting to be a part of this fantastic race."
The Vitality Oxford Half Marathon course runs through Oxford and surrounding areas and starts and finishes at Oxford United's ground, the Kassam Stadium.
In May, Sir Roger revealed he was suffering from Parkinson's Disease.
There will be live coverage on BBC Radio Oxford of the half marathon on Sunday from 09:00 BST.