Soldiers of Oxfordshire Museum opened by Princess Royal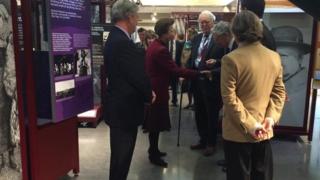 A £3.2m museum built to honour soldiers from Oxfordshire regiments has been opened by the Princess Royal.
The Soldiers of Oxfordshire Museum displays artefacts from the Oxfordshire and Buckinghamshire Light Infantry and the Queen's Own Oxfordshire Hussars.
It was built in the grounds of the Oxfordshire Museum in Woodstock after years of fundraising by the Soldiers of Oxfordshire Trust.
The project to find a permanent home for the collections started in 2000.
It was granted planning permission by Oxfordshire County Council 10 years later and building work began in 2012.
Money to build the museum was raised largely from private donors.
The displays trace the history of the soldiers and their units from, for example, Waterloo to modern time conflicts such as Afghanistan.
Museum volunteer Lieutenant Colonel Ingram Murray said remembering Oxfordshire's role in wars was "very important".
"A project was launched to obtain funds to build a new museum and this has been extremely successful - we occupy now a very fine new museum," he said.
"It contains a series of displays which reflect service life in Oxfordshire and various themes such as 'prisoners of war' because a very large number of Ox and Bucks were captured in the Second World War."
The Oxfordshire and Buckinghamshire Light Infantry museum was in Cowley barracks in Oxford for about 70 years, before several moves around Oxfordshire.