South Oxfordshire council leader dies after illness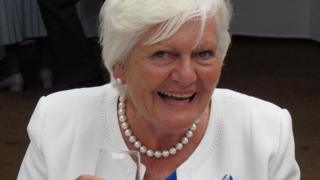 The leader of South Oxfordshire District Council has died.
Ann Ducker, who had served on the council for 32 years, died following a short illness, a statement said.
The Goring councillor was shortlisted as a potential Conservative candidate in 2008 for the Henley parliamentary seat vacated by Boris Johnson, but lost out to the present MP John Howell.
Council chair Ann Midwinter called Ms Ducker an "exemplary public servant", adding: "She will be sorely missed."
In 2010, Mrs Ducker was awarded an MBE for services to local government.
In a statement, her family said: "Ann leaves a big hole where she will be greatly missed by friends, colleagues, and family.
"What we hope as a family is that her legacy - and legend of hard work ethic of doing work for the community for the greater good - lives on.
"She was also a wonderful mother and grandmother."