Bicester wartime bombs arrest man bailed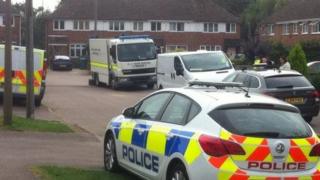 A man arrested in connection with the discovery of a number of World War One and Two munitions at a house in Oxfordshire has been released on bail.
The discovery in Buckingham Crescent, Bicester, was made by police on Thursday.
A 35-year-old local man arrested on suspicion of theft from heritage and protected sites has been bailed until 11 November.
Police said forensic investigations were continuing at the scene.
Residents evacuated from nearby homes on Thursday, while controlled explosions were carried out, have since been able to return.
The arrest followed raids in Hertfordshire on Wednesday, when other munitions were found.