Oxfordshire 'quarry plan' land assessed for heritage status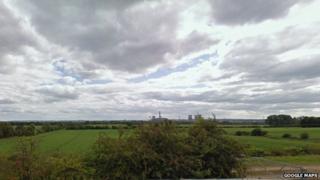 A rural site in South Oxfordshire is being assessed for heritage status, which could affect plans for a large quarry in the area.
The Fullamoor Plantation is being reviewed by English Heritage for its ancient archaeological features.
Hills Quarry Products wants to submit plans to extract 5 million tonnes of minerals from the area over 20 years.
A firm spokesman said it "awaited with interest the outcome of the application to English Heritage".
'Important archaeological site'
The firm wants to submit plans later in the year to use 160 hectares (35 acres) of land for the sand and gravel quarry, of which the Fullamoor Plantation covers about 30 hectares.
Campaign group Bachport (Burcot And Clifton Hampden Protection Of River Thames) applied to English Heritage to have the plantation listed as a scheduled monument, which means the land would be legally protected against disturbance.
Archaeologists from Oxfordshire County Council uncovered "settlements of late prehistoric and Romano British periods" in the area, as well as a Bronze Age barrow cemetery.
An English Heritage spokesman said it would make "a recommendation to the Department for Culture Media and Sport in due course".
The final decision will be made by Culture secretary Sajid Javid.
Campaigners hope a heritage listing will deter the firm from pursuing its quarry plan.
Jaqi Mason, from Bachport, said English Heritage's involvement showed "how serious this issue is being taken".
She added: "Apart from ruining an important archaeological site, a huge quarry would cause serious environmental damage to a beautiful and peaceful area alongside the Thames and must be resisted."
Hills Quarry Products said plans were "still at an early stage".