RAF Brize Norton's 4624 Squadron parades in Witney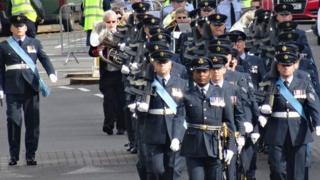 A squadron based at RAF Brize Norton has exercised its right to march through an Oxfordshire town for the first time since being given the Freedom of the County.
It was awarded to 4624 Squadron, the Royal Auxiliary Air Force, recognising 30 years' service to the country, local communities and charities.
It marched through Witney with fixed bayonets to mark the Battle of Britain.
Wing Cdr Rob Williams said the parade was an "absolute pleasure".
The squadron's commanding officer added: "What we like to do is mark our relationship with [Witney]. It's trying to keep our allegiance close to home."
Jeannette Baker, the mayor of Witney, said: " I'm really very proud to be taking the salute.
"It is just such an honour for this to be happening and for the town of Witney. I'm just so proud."
The squadron, which formed at the base in 1982, is the largest Royal Auxiliary Air Force unit with 256 part-time volunteer reserves.
Freedom of the County is awarded to "persons who have, in the opinion of [Oxford County County Council], rendered eminent services to that place or area".