Former police station opens as Abingdon Bridge charity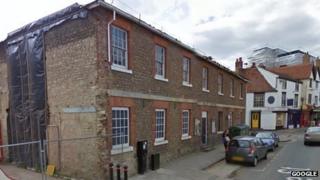 A former police station in Oxfordshire has been officially reopened as the home for a youth charity.
Abingdon's police station has been refurbished to be used by The Abingdon Bridge charity.
It provides support for vulnerable young people coping with educational, addiction or abuse issues each year.
Chris Bryan of Abingdon Bridge said the new outreach centre will allow the charity to "help young people through the challenges they face".
The building, which dates back to the 1850s, was last used as a police station in 1999. It has since been refurbished with the original cell doors kept in place.
The Abingdon Bridge charity was founded in 1993 and provides support and counselling for up to 400 young people in the town each year.