Blenheim Palace land housing scheme 'scaled back'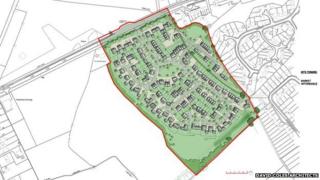 Plans for 362 new homes on Blenheim Palace land have been scaled back to reduce pressure on local services.
Pye Homes originally planned to build more than 350 houses on land near Long Hanborough but a planning application has been submitted for 169 homes.
The application to West Oxfordshire District Council said it would include 83 affordable homes.
Residents had been concerned about pressure on local services, such as doctor's surgeries and primary schools.
'Fewer new residents'
The developer said in the application after residents had raised concerns in July: "The exhibition was held in relation to a previous scheme for 362 houses, which has since been scaled back to only 169 houses on the southern half of the original site.
"This will reduce the pressure on local services including schools, doctors, roads and shops, as the development will generate fewer new residents in the area."
If planning permission is granted the land, south of Witney Road, will be sold by the Blenheim Palace estate.
Planning permission has also been given for 64 homes near Marlborough School and another site near Woodstock could be developed with 180 homes.
A spokesman for the Hands off Hanborough campaign said: "The proposed development by Pye Homes is not sustainable, our roads, schools and community facilities are already full.
"Mass housing developments of this type will damage rather than enhance the social, economic and environmental prospects of the area."