Sir Roger Bannister receives Oxford Brookes University honorary doctorate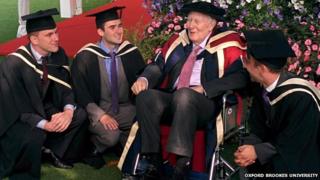 Sir Roger Bannister, the first man to run a mile in less than four minutes, has received an honorary doctorate.
The former neurologist attended graduation ceremonies at Oxford Brookes university in the Faculty of Health and Life Sciences.
Sir Roger, 85, studied medicine at the University of Oxford and worked in research and clinical practice.
He was knighted in 1975 and retired as Master of Pembroke College, University of Oxford in 1993.
Janet Beer, Oxford Brookes vice-chancellor, said: "Sir Roger's life and works have been informed by a spirit of determination and dedication, and I'm sure our graduates will look to his many great achievements as inspiration for their own futures."
In 1954 he made sporting history by running a mile in three minutes and fifty nine seconds at Oxford's Iffley Road track.
Throughout his life he has held many positions and was the first chairman of the Sports Council and was president of the International Council for Sport and Physical Recreation.
The runner and neurologist was diagnosed with Parkinson's disease in 2011, which he said held a "gentle irony".
Students from the school of health and life sciences joined Sir Roger at the ceremony earlier.
He also holds an honorary degree from the University of Pavia which he received in 1986.