Abingdon's Skye Hall loses his cancer battle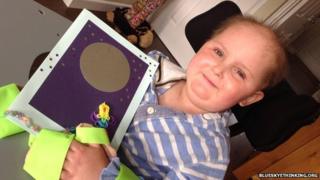 A five-year-old boy from Oxfordshire has lost his battle with cancer.
Skye Hall, from Abingdon, died just a year after he was diagnosed with an aggressive brain tumour.
He had undertaken a challenge called Loom to the Moon, to create the world's longest loom band, in a bid to raise money for brain tumour research.
He and his parents also set up a charity called Blue Skye Thinking to support the research and treatment of childhood brain tumours.
'Inspiration'
Skye began making loom bands during his hospital stays and came up with the idea of trying to make the world's longest one.
However, when he became paralysed from the shoulders down, after undergoing radical surgery, Skye and his family turned to the public to help.
They received support from across Oxfordshire and around the world, as people sent them their loom band creations.
Speaking to the BBC before Skye's death, his father Andrew said: "We want it to be a story of inspiration. Yes, of course, it is incredibly difficult for us.
"But he has inspired us and will continue to do so long after he has gone."
The family said Skye's younger brother Jesse would now try to complete his mission in his memory.