Connor Tremble stabbing: Jealous love rival jailed for murder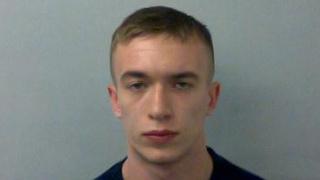 A jealous ex-boyfriend who stabbed his teenage love rival 15 times has been jailed for life for his murder.
Will Blencowe, 21, took a taxi to the flat of his ex-girlfriend's new partner, Connor Tremble, in Oxford before repeatedly stabbing him.
Mr Tremble, 17, died two days later in hospital on 15 February.
Oxford Crown Court heard "paranoid" Blencowe was unable to accept his ex-girlfriend was in a new relationship. He was jailed a minimum of 23 years.
Blencowe, of Oxford Road, Banbury, was found guilty of murder on Thursday.
Grant Clemens, 24, of Stockwells, Moreton-in-Marsh, Gloucestershire, and Bradley Jones, 21, of Chipping Norton, were both cleared of perverting the course of justice.
Blencowe's ex-girlfriend Aimee Harrison told the court he was "paranoid, over-protective and jealous" and would spit in her face.
She said she started going out with Mr Tremble in January after ending the four-year relationship in September.
The court heard on the night of the stabbing Blencowe had taken a taxi to Mr Tremble's home in Faircares Road, Oxford, and told the driver to wait as he went inside.
The prosecution said Mr Tremble tried to defend himself with his arms but was stabbed repeatedly.
He was found with stab wounds to his chest, hands and legs in the social housing flat he was living in.
Police later found samples of Mr Tremble's blood at a hotel in Stratford-upon-Avon, where Blencowe had stayed that night.
During the trial Blencowe denied murdering the teenager, claiming he was in a "fantasy world" at the time of the stabbing.
Following the sentencing, Det Ch Insp Mark Glover said the jail term "reflects the severity of the crime".
"Throughout this process Blencowe has shown no remorse for his actions which lead to 17-year-old Connor's death."
Speaking after Thursday's verdict, Mr Tremble's mother Lisa said her son's killer had shown "no mercy".
"Will Blencowe is responsible for committing the most horrific and violent murder of our beloved Connor, which he carried out with detailed planning," she added.