Kitten caught in mousetrap in Oxfordshire loses leg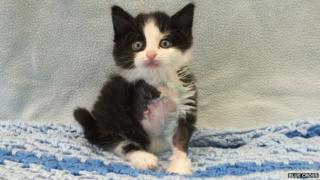 A four-week-old kitten had to have its leg amputated after it got caught in a mousetrap.
The kitten, named Babybell, was found in a garden in Oxfordshire with its front leg snared in the trap.
She was taken to the Blue Cross rehoming centre in Lewknor before being rushed to an animal hospital, where vets examined her and gave her emergency pain relief.
But the damage was so severe, her leg had to be amputated.
'Very lucky'
Cristina Bull, Blue Cross veterinary surgeon, said: "Poor Babybell has really been through the wars and her leg was in a really bad way after getting it caught in a mousetrap.
"The trap had caused irreversible neurological damage and the wound was infected.
"Babybell was very lucky she was found otherwise she wouldn't have survived much longer."
Babybell is now being fostered by a member of the Lewknor team following her surgery on August 15.
She will be available for re-homing when she is around nine-weeks-old, the centre said.
Lisa Kent, Blue Cross animal welfare assistant, said: "Babybell is so young that she will adjust well to life with three legs.
"She's very sweet and hopefully her disability won't put people off giving her a home."