Jayden murder: Additional officer faces misconduct inquiry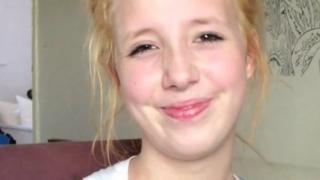 An additional police officer has been served with a misconduct notice over the inquiry into the murder of Oxfordshire teenager Jayden Parkinson.
It brings the total number of officers being investigated by the Independent Police Complaints Commission to six.
The watchdog is looking into how three sergeants and two constables dealt with reports Jayden was missing.
Another constable is under investigation as a result of a complaint by Jayden's mother.
Missing person report
Jayden's ex-boyfriend Ben Blakeley, 22, from Reading, was jailed for life in July, for murdering the 17-year-old and burying her in his uncle's grave.
His brother Jake, of Venners Water, Didcot, was accused of preventing the lawful burial of Jayden, which he denied, and his retrial is set for 19 January after jurors failed to reach a verdict.
The Independent Police Complaints Commission was unable to confirm whether the latest officer was being investigated over the handling of Jayden's missing person report or as a result of complaints from Jayden's mother.
The IPCC investigation focuses on the officers' actions between 4 and 12 December.
Jayden, who had lived with her family in Folkestone before moving away, was reported missing just after midnight on 4 December and was found dead two weeks later.
Investigators are looking at what information was available to officers who arrested and interviewed Blakeley on 4 December over an allegation he had taken indecent images of Jayden.
It is also looking at whether the officers were aware Jayden had been reported missing at that stage.
Blakeley was bailed twice before Jayden was re-categorised from a medium to high risk missing person and he was arrested on suspicion of murder.
Blakeley was ordered to serve a minimum of 20 years by a judge at Oxford Crown Court.