After-school club at Kingfisher School in Abingdon denies child protection concerns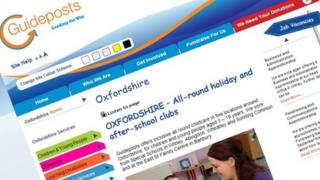 An Oxfordshire after-school club for children with learning disabilities has denied concerns over child protection led to its closure.
Ofsted said its registration of Guideposts Trust club at Kingfisher School in Abingdon had been suspended following a second "inadequate" rating.
The watchdog found staff had failed to report an allegation of abuse or to act promptly on concerns.
The school blamed an "administrative error" in not informing Ofsted.
The Ofsted report also said the club had allowed unchecked staff to work with children.
Challenge inspection
A "welfare requirements notice" has been issued, meaning steps must to be taken to improve.
Guideposts Trust provides the after-school and holiday schemes at Kingfisher School for pupils from three to 19 years old.
There are 52 children with special educational needs registered there.
Ofsted's report also said the risk assessment procedures were not robust enough to prevent children leaving the premises.
A statement issued by The Guideposts Trust said: "We strongly refute that we have not reported an abuse allegation.
"We informed all the relevant agencies in Oxfordshire at the time the allegation was made but we do accept that due to an administrative error this was not reported to Ofsted."
It said other factors including building works had led to concerns which "focus around the general safety of children", but there were "currently no concerns over child protection of an individual child".
It denied there were unchecked members of staff on site and said it intended to challenge some aspects of the inspection and report.