Gay blame councillor David Silvester escapes action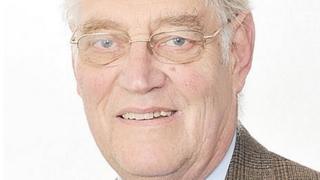 A former UKIP councillor will not face any action after he blamed the winter storms and flooding on the legalisation of gay marriage.
In a letter sent to the Henley Standard newspaper in January, town councillor David Silvester warned the prime minister the legislation would result in "disaster".
An inquiry by South Oxfordshire District Council found the comments had not breached its code of conduct.
Mr Silvester said he had "no regret".
The letter had been signed "Councillor David Silvester" with the newspaper adding "Henley Town Council, UKIP".
'Very relieved'
But the investigator said he felt any reasonable observer would conclude he was expressing his personal views and not those of the town council.
In a statement, South Oxfordshire Council said: "The council's monitoring officer has decided to take no further action on the complaints...
"She considers that this matter falls outside the scope of the council's standards framework. She therefore has no powers to take any further action in relation to the allegations."
Mr Silvester has been warned that using his honorific title in personal correspondence is not advisable as it lays his reputation and that of the town council open to unnecessary risk.
He was expelled from UKIP in February after making the comments.
In the letter he wrote: "The scriptures make it abundantly clear that a Christian nation that abandons its faith and acts contrary to the Gospel (and in naked breach of a coronation oath) will be beset by natural disasters such as storms, disease, pestilence and war."
Following the investigation, Mr Silvester said he was "very relieved" at the outcome.
"I believed [the letter] was right at the time and have continued to believe so," he said.
He said he would continue as a councillor and it was "quite possible" he would stand in next year's election.