Wendlebury stables safety fear over Bicester rail noise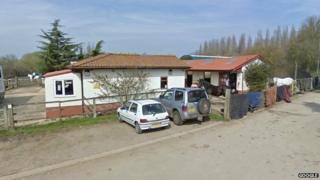 An Oxfordshire riding stables claims it will be forced to close when a high-speed rail link opens next year because the noise will make lessons unsafe.
Wendlebury Gate Stables, near Bicester, is next to the line where the new Chiltern Railways Marylebone to Oxford service will run from August 2015.
An independent report found the noise would drown out instructors' voices.
Network Rail said any noise barrier would not guarantee instructors' voices could be heard at all times.
Stables co-owner John Offard said: "In their planning application they [Network Rail] say it's not possible to build an effective wall but we have given them names of people who can build an effective wall, but I guess it's cheaper to build one that doesn't work.
"If it goes ahead without an effective wall we would have to close because it would not be safe."
'Site restrictions'
A Network Rail spokesman said: "We have investigated all the options available to us for installing sound barriers near to Wendlebury Gate Stables.
"Unfortunately, due to site restrictions, including the existing railway, bridges and watercourses, and due to the height and length of the barriers that are practical to install and maintain, there will be some areas of the fields that do not achieve a 'fair' rating for voice intelligibility at all times.
"This noise model has been developed using conservative data and so any increase in noise levels may not reach the level that we have catered for in our assessments.
"We are continuing to progress our plans to install sound barriers near to the stables and work with the owners to mitigate any increase in noise levels. We are confident that this can be achieved and that the business can continue to operate safely."
The stables employs 15 people and provides about 4,000 lessons a year.