The Beacon drink ban calls time on Wantage Beer Festival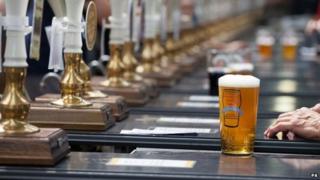 A beer festival in Oxfordshire has been called off after new rules banned drink being brought to the venue.
The White Horse Camra branch has hosted the Wantage Beer Festival for six years and at The Beacon for the past three.
But groups hiring the hall are now unable to bring food and drink to the venue after the former Civic Hall was relaunched as The Beacon this year.
The council, which owns the hall, said the policy was introduced to prevent it subsidising the cost of events there.
Festival organisers have been unable to find a replacement venue this year and an alternative event will now be held in March.
Neil Crook, chairman of the White Horse Campaign for Real Ale branch and festival organiser, said: "For many years it has been growing and has been part of the social calendar for many people.
"I was gobsmacked and everyone is disappointed."
Council-run Oktoberfest
Last year's event attracted more than 1,000 people over two days in November, with an entry fee of up to £3 charged to cover the £1,000 venue hire costs.
The council will hold its own beer event, Oktoberfest, at The Beacon on 3-5 October.
Mr Crook said he never asked the council for any financial contribution towards the event and Camra was responsible for any losses or profits it made.
This year's event was due to be held on 14 and 15 November.
A spokeswoman for the Vale of White Horse District Council said it had invited Camra to discuss options last October, but it declined the invitation.
Camra's event will now take place on 13 and 14 of March at the Old Mill Hall in Grove.