Clint Townsend: Misadventure verdict over restrained robber's death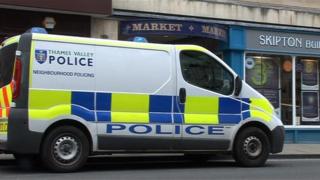 The death of a robber who was restrained by passersby after a bungled raid has been recorded as misadventure.
Clint Townsend, 33, was involved in the botched armed robbery at John Gowing Jewellers in the Covered Market in Oxford on the morning of 30 March 2013.
Members of the public sat on him and held him down on the ground as they waited for police. He died in hospital.
Deputy coroner Alison Thompson said the group that restrained Mr Townsend had not intended for him to die.
On Tuesday the court heard from pathologist Dr Ashley Fegan-Earl, who said Mr Townsend was obese and suffering from coronary heart disease.
He said restraint had definitely played a part in his death but it was perfectly plausible that had he not had heart disease it would not have had such a devastating effect.
Mr Townsend's sister Hailey said after the inquest: "He will be greatly missed. His death has left a massive hole in our hearts. We are still considering the coroner's verdict."