Oxford landlords told to improve recycling in flats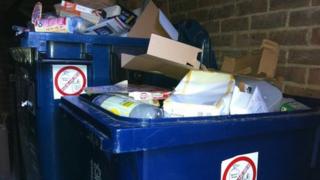 Landlords must pay for their own bin collectors if residents in blocks of flats do not recycle more, a city authority has warned.
Oxford City Council is aiming to recycle 50% of the city's waste.
John Tanner, board member for a Cleaner, Greener Oxford, said some landlords were not providing the right bins, and called it a "disgrace".
Gavin Dick, from the National Landlords Association, called the idea "laudable" but "unjust".
The council's policy for flats since December 2012 is to not collect more waste from refuse bins than from recycling bins.
It is currently recycling 45% of the city's rubbish.
Speaking to BBC Radio Oxford, Laura Farley said the problem was that there was not enough recycle bins.
She said: "I share one blue large house-style bin with three other family flats. I often can't get my recycling in the bin unless I get there first.
"Provide the right amount of bins and people will recycle more."
'Collective punishment'
But Mr Tanner said it was "about time" flat residents caught up with everyone else.
He said: "If we don't recycle then we have to pay more in landfill charges. It goes on to the council tax, [and] everybody pays the council tax.
"We would much prefer landlords to come on board [with] the city council's scheme."
He added that "if push comes to shove" they would insist private companies were employed.
Mr Dick said the council had not thought through the policy.
He added: "There are many people that live in flats. If one person doesn't do it, that means the whole block is being punished.
"What other councils try to do is... target the individual, and don't go down the collective punishment route of blaming everyone in a block of flats.
"The council doesn't seem to understand it's not the landlord, it's the tenant. Landlords shouldn't go round to tenants houses everyday checking waste."