Oxford raid suspect was still breathing, police tell inquest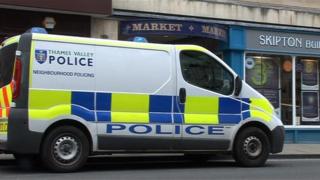 A robber who died after an attempted raid on an Oxford jewellers did not need CPR because police believed he was still breathing, an inquest heard.
Clint Townsend, 33, was involved in the botched robbery at John Gowing Jewellers in the Covered Market just before 09:15 BST on 30 March 2013.
He was confirmed dead a day later, after being restrained at the scene.
Police told Oxford Coroner's Court they thought they had felt breath from Mr Townsend's nose when they arrested him.
The court also heard from pathologist Dr Ashley Fegan-Earl, who said he was medically obese and was suffering from coronary heart disease.
He said restraint had definitely played a part in his death but it was perfectly plausible that had he not had heart disease it would not have had such a devastating effect.
Held on floor
The inquest previously heard two men had ridden a motorbike into the pedestrianised Covered Market.
The motorcycle rider ran away but Mr Townsend, from Headington, Oxford, was caught by a group of men who restrained him on the floor.
Witness accounts have varied about the size of the group, but one said up to eight people had tried to "stop him getting away",
The inquest heard he ended up on the floor still wearing his helmet and motorcycle gear.
Two police officers said when they arrived they both thought there was breath coming from Mr Townsend's nose and so did not feel there was a need to administer CPR.
The inquest is expected to conclude on Wednesday.