Oxford Covered Market robber died after being restrained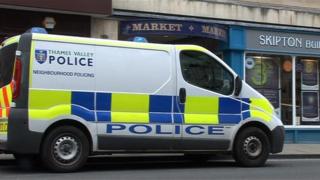 A man involved in a robbery in Oxford died a day after being held down by people attempting to stop him escaping, an inquest heard.
Clint Townsend had been involved in an attempted raid on John Gowing Jewellers in the Covered Market in March 2013.
Witnesses at Oxford Coroner's Court could not agree on how many people were involved in apprehending the 33-year-old.
One described up to eight people trying "to stop him getting away".
Others described just three people holding down the suspect - John Gowing, a second worker at the jewellery shop and a man who worked at a nearby cafe.
Several witnesses who took to the stand, including shopkeepers and shoppers, told the court two men had ridden a motorbike into the pedestrianised Covered Market just before 09:15 BST on Saturday 30 March.
They said one hit the shop window with what was thought to be a sledgehammer. The motorcycle rider ran away but the man who hit the window was caught by a group of men who restrained him on the floor.
Coroner Alison Thompson stressed the hearing was not a criminal case.
The inquest is expected to conclude on Tuesday.