Oxfordshire cancer-surviving toddlers lead fundraising walk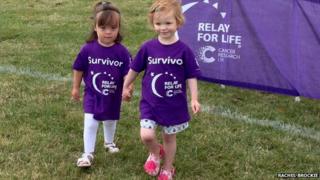 Two three-year-old girls who both survived cancer have taken a lap of honour to start a two-day fundraising relay in Oxford.
Evie-Mae Crawford and Martha Hanlon, both from Oxfordshire, started off the Relay For Life in aid of Cancer Research UK.
Martha's mother Eve said: "It is a privilege for Martha to represent other children going through treatment".
Cancer Research said five people in Oxford a week die from the disease.
'Legs went purple'
Evie-Mae, from Berinsfield, near Wallingford, is now said to be doing well after completing six months of chemotherapy last year.
She was diagnosed with an aggressive form of leukaemia after being rushed back from a holiday in Scotland.
Martha, from Headington, was also on a family holiday when she was diagnosed with cancer.
Cancer Research UK said: "She had been feeling a bit under the weather and her parents, Eve and Andrew, thought a holiday would do her good.
"But by the time they arrived at their holiday cottage in Dorset, Martha's arms and legs had gone purple."
After a period of intense chemotherapy she is now receiving "maintenance chemotherapy" as an out-patient, which will continue until June 2015.
Both girls were treated at the John Radcliffe Hospital in Oxford, which is working alongside the charity on trials using new treatments available to children with cancer.
The Relay For Life at Oxford Rugby Football Club in North Hinksey involves team members taking turns to walk round a track.
The event continues non-stop through the night.
Event chairman Mike Hughes said: "We are delighted to have these two very special little girls to lead the lap of honour.
"I know they will be an inspiration to everyone who meets them."