Blackbird Leys swimming pool construction begins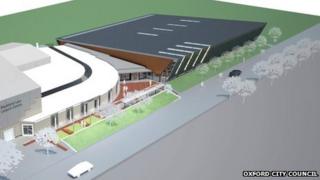 The first tiles of a new swimming pool that will form part of a £9.2m leisure complex in Oxford have been laid.
The centre in Blackbird Leys will include a competition swimming pool, and a full-size learner pool, and will be completed by the end of the year.
General manager David Hunt said he was excited to see the new building taking shape and its opening getting closer.
More than 46,000 tiles will be fitted and 813,000 litres (178,835 gallons) of water added.
Mike Rowley, board member for leisure services at Oxford City Council, said: "I'm delighted to see the first tiles being laid in the pool.
"This is when you start to see the swimming pool come together."
The project was given the go-ahead last summer after a legal bid to protect the land on which it is being built was withdrawn.
Residents had taken Oxfordshire County Council to the High Court over its refusal to award it Town Green status but the challenge was dropped.
The city council submitted the plans to replace Temple Cowley and Blackbird Leys pools in 2011.
But in April Temple Cowley was listed as an "asset of community value", and campaigners have until October to submit a proposal to the council to buy it.