Government cash to cut bed-blocking in Oxfordshire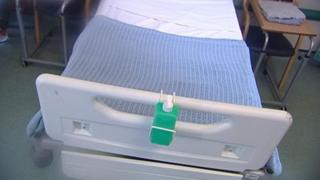 An Oxfordshire charity has been awarded £270,000 to help tackle bed-blocking in hospitals.
Age UK Oxfordshire has been given £225,000 from the government for its Circles of Support scheme, along with a £45,000 contribution from Oxfordshire Clinical Commissioning Group (CCG).
The scheme helps arrange support for people so they can leave hospital.
Last year, a report found that Oxfordshire was the worst area in England for bed blocking in 2012-2013.
Bed blocking is caused by people staying in hospital, even though they are fit to leave, because they have nowhere to go where they will be looked after.
Statistics showed an average of 182 patients a week were stuck on wards during 2012-2013.
'New deal'
Oxfordshire CCG said there was currently an average of 130 delays a week.
Age UK Oxfordshire's deputy chief executive Penny Thewlis said: "We will be working in the hospitals with people who are due to be discharged to try to help them think about what they want and what they need when they are discharged."
Oxfordshire was first identified as the worst area in September 2011.
A new deal was drawn up in April 2012 to tackle the problem, including Oxford Health NHS Foundation Trust recruiting more staff to look after people in the first six weeks after illness or injury.
The Circles of Support project is one of eight awarded a grant from 160 applications to the Reducing Winter Pressures Fund, funded by Cabinet Office and the National Tripartite of NHS England, Monitor, the NHS Trust Development Authority.
Fenella Trevillion, assistant director for older people for Oxfordshire CCG, said: "It will support more people at home in new and different ways using the many and able volunteers in Oxfordshire.
"The project will additionally help older people in hospital navigate through the information available and get the right support quickly so they can get home as soon as possible."