Toddler death 'not predictable or preventable'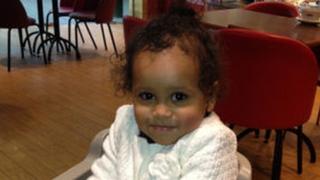 The unexplained death of a 20-month-old child in a family home could "neither have been prevented nor predicted", a serious case review has concluded.
The Oxfordshire Safeguarding Children Board (OSCB) investigated the case of Child N, believed to be Sarah Dahane, who was found dead in May 2013.
Police later discovered the mother had absconded to Africa.
The report looked at the role of Cafcass, the NHS, police and social services.
'Well cared for'
OSCB, which does not name the child, called it a "sad case of a young child who died in unexplained circumstances".
The board's chair Maggie Blyth said: "Up until her death, Child N had apparently been well cared for and was thriving."
The report states the mother had been involved in a custody battle with the father, relating to her wish to return back to her country of origin in Africa with the child.
She had also accused the father, from whom she had separated before the child's birth, of domestic abuse, though the allegation was never substantiated.
Police investigating the death at the time discovered the mother had since left the country.
The report looked into the contact the family had with a number of agencies including social services, health services, housing, the police and the family court system.
It found some "minor areas of concern" in agencies' practice, but "none that suggested the death of Child N was predictable or preventable".
Despite the review's conclusion, Ms Blyth said there were "lessons for the agencies to learn so they can improve their approach to safeguarding in the future".
She added a new multi-agency safeguarding hub being set up in Oxfordshire would "help address this issue".
Thames Valley Police said the investigation into Sarah's death was ongoing.