Blenheim Palace bid to sell land for £40m maintenance bill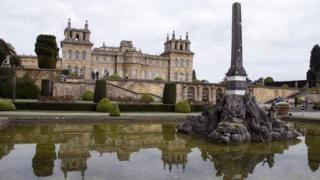 Hundreds of homes could be built on Blenheim Palace farmland to raise funds to cover maintenance costs.
Planning permission was granted in May for 64 homes near Marlborough School and two more developments, for nearly 550 homes, are in the pipeline.
Campaigners in Long Hanborough are concerned that this will lead to the "loss of the village".
About £40m must be raised to fulfil obligations to keep the estate's World Heritage status, Blenheim Palace said.
Roger File, property director at the estate, said: "We need to find £40m and there is a huge need for housing in Oxfordshire.
"We would invest the money to give us a return so we will have a sustainable income."
'No way back'
A site off Shipton Road, Woodstock, has been given planning permission for 64 homes, which will be built by Pye Homes.
The company is consulting residents on a development of 362 homes in Witney Road, Long Hanborough, and a planning application is due to be submitted to West Oxfordshire District Council in the next month.
Another site, east of Woodstock, has been earmarked for 180 homes and will be considered later in the year.
Campaigners for Hands off Hanborough are concerned that so many new residents will put extra pressure on schools, the A4095, the GP surgery and the sewerage system.
A statement on the campaign's website said: "We're a rural Oxfordshire village and if this goes ahead there will be no way back."
Mr File estimated each acre could make £1m, but this is dependent on planning permission and how many affordable homes and other amenities could be included as part of a section 106 agreement.